We had a meal planning system. It went fine until a few months ago. The old system would have like 8 meals on the board--all ingredients bought in one big trip--and the night before I would decide what we were having. I guess I got lazy or busy or I don't know, but more and more I found that I hadn't thawed out the meat or hadn't even chosen the meal to make come 5pm.
After a strange spat about cooking and how I hate it and am not good at it and wish I had enough money to hire a private chef, we made the conscious decision to eat out more. Meaning
twice a month
. (We went to a whopping ZERO restaurants together in January.) Yes, we might be the most frugal people you may ever meet, in the fact that we had to come to that decision. To do this we actually needed to schedule our restaurant nights. I also asked B if he would cook twice a month (not just whenever I didn't feel like doing it and put him on the spot like previously).
All of that led to meal planning for actual days of the week. Y'know, like normal people do.
I went a little crazy and did a whole month, just to make my life easier.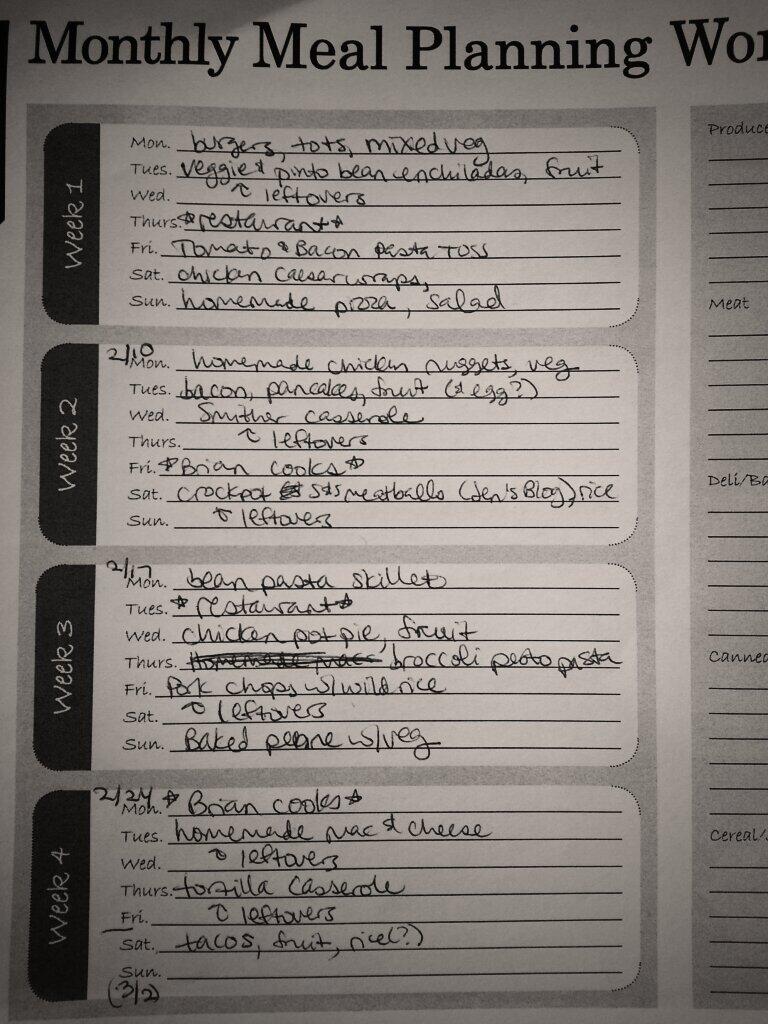 I did have one drawback last week, though, as my Friday meal actually made enough for 2 nights. I'm obviously
not
an over-achiever in the kitchen, so we ate it again Saturday. I ended up making the Saturday meal for lunch today (for me).
Below is our
menu for this week
. We have no food allergies, aren't paleo or gluten-free, we aren't on weight-loss journeys, we eat for sustenance first and taste second, and our 2-year-old probably won't eat any of this. (Yeah, not even the nuggets. Maybe the pizza, though?)
Sunday:
Homemade pizza and a salad. I'm hoping to make the dough in my Ninja blender using
their recipe
!
Monday:
Homemade chicken nuggets. The class I'm taking on Coursera about Child Nutrition & Cooking showed just how easy it is to make these (flour, then egg, then panko, then pan-fry). Plus, Meijer had boneless, skinless thighs on sale which is the best cut but usually the most expensive.
Tuesday:
Breakfast for dinner. Bacon, pancakes, fruit, and maybe eggs. I may sound lame, but
oven-baked bacon
has saved my sanity (and it tastes the same!).
Wednesday:
Ground Beef Casserole (Shepherd's Pie, kinda). You brown a pound of ground beef, add a can of tomato soup, a can of drained green beans, and top it with mashed potatoes. We ate this a lot growing up, and I refer to it now by a family name. I have started adding some thawed-out mixed vegetables, since we're always a bit lacking in the veg department. So yeah, I think I turned it back into Shepherd's Pie with that. I might used ground turkey this week.
Thursday:
Casserole leftovers
Friday:
B cooks. Not sure what he'll make, but he better tell me before I go grocery shopping! (Otherwise, he'll probably take the spaghetti route.) Update: he made lemon-rosemary chicken breasts, recipe from one of our cookbooks.
Saturday:
Crockpot Sweet & Sour Meatballs, over rice. Found this through another blog, but here's the
link to the actual recipe
.