Time for another Top 10 Tuesday! Feel free to join in the fun and link up by clicking this button right here.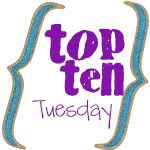 Today's list is celebrating my home state of Georgia. I present with you my
Top 10 Fave Celebs from Georgia! (The "Still Currently Alive" edition)
10. The B-52s - from Athens (the BEST college town in the world) I LOVE their quirky music and fun dance-able songs. And the hair, gotta love the hair.
9. Julia Roberts - from Smyrna (suburb NW of Atlanta). How can you not love the original Pretty Woman?
8. OutKast - based in East Point (south Atlanta). Six Grammy Awards and the reason I sing about being "so Fresh and so clean" when I get out of the shower
7. Jeff Foxworthy - from Hapeville (Atlanta's southside, near East Point), and attended Georgia Tech. I grew up on "You might be a redneck" jokes. I don't think I am one though.
6. Alton Brown - current Marietta (another ATL suburb!) resident and holds a degree in Drama from UGA. I love his "Good Eats" show; it takes quite the talent to make the science of eating entertaining!
5. Ty Pennington - from Marietta. Hottest carpenter on television, hands down . . . and I may get the chance to meet him in a few weeks as I will be volunteering on the build for
Extreme Makeover: Home Edition
when it comes to Pensacola!
4. Herschel Walker - from Wrightsville (somewhere kinda in the middle?). Heisman Trophy winner who helped my beloved Georgia Bulldogs win a national championship (over B's Notre Dame) in 1980, then went on to a pretty decent pro career.
3. Ryan Seacrest - from Dunwoody (used to be part of Atlanta, became its own city in 2008), attended the same UGA Journalism School that I did (but he left before the degree to make it big). Say what you want about his hair or sexuality, but this guy is one of the hardest-working in Hollywood.
2. Teresa Edwards - from Cairo (in the SW corner of the state, and locals pronounce it KAY-roh). One of the best female basketball players of all time; she attended my beloved UGA (where her #5 is now retired) and played in
FIVE
Olympics!
1. S. Truett Cathy - from Eatonton (sorta between Atlanta and Augusta). Founder of Chick-Fil-A, my first job and still one of my favorite places to eat! And I actually
LOVE
that they're closed on Sundays; it takes quite a bit of character to stick to your Christian values like that while simultaneously embracing the capitalistic "American Dream."
Some Honorable mentions: Butch Walker, Trisha Yearwood, and Paula Deen
Who's your favorite Georgia celeb?