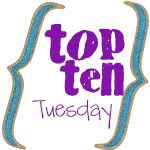 I've been a lucky girl. I just won my second blog giveaway last week, thanks to
Flip Flops and Combat Boots
. So I thought today I'd share some other cool stuff I've won in the past.
10. A jar of jelly beans.
This was the first thing I ever won, and I was probably 7 or 8 years old. You had to guess how many jelly beans were in the jar, and my guess came closest (which is hilarious, because I've always been pretty terrible at estimating). I actually hated jelly beans, so my family benefited. But the jar was my favorite part (it had a hinged lid and a pretty neat closing mechanism). We used it for many years until it finally broke when I was a teenager.
9. Hair stuff for a baby girl.
This was the first thing I won from a blog (
Confessions of a Sailor's Wife
). The hair stuff came from
Keelan's Krafts
, and I of course gave it all away. I visited my friend and her newborn, and the hair bow instantly transformed her into a little girly girl. Too cute. I gave some of the stuff to my newborn niece too, but I haven't seen any pictures yet.
8. Candles that smell like mulled cider.
Back when I did the
Extreme Makeover build
, the company that was providing the lighting for the house did a Facebook giveaway. I ended up winning another "guess the number" type of game (more of a counting/detail-based though), but they wouldn't tell me what I won until I showed up at their business. So I hiked it up to
Shades of Light
in Milton, praying it wasn't just gonna be a coupon since we rent and have no need for lighting fixtures. But I was pleasantly surprised to receive two nice autumnal candles. Their showroom was pretty cool, too.
7. Movies and CD's.
I can't always remember where I got things, but I do own certain movies that I have absolutely certainty I would never buy. One was
Crash
, I remember that. The others, hmm . . . I'd have to look through everything. And I might have given some away. My most recent win was the Family Movie Night package (contains 3 movies), which is what I won from Flip Flops and Combat Boots.
6. Money on scratch-off lottery tickets.
My family likes to give these to each other on holidays and birthdays. I won $7 or so from my birthday ones last year, and at Christmas I won $13. My family doesn't mind buying the tickets, because the Georgia Lottery
paid my entire tuition
all four years of college. As long as they don't spend more than $20,000 or so, we've already come out ahead. (My dad won $500 on a scratch-off once, by the way.)
5. Something at a bridal show I wasn't present for and will never know.
I'm sure it was fantastic, and my mother can take all the blame. Basically, she went to a bridal show in GA (where my wedding was happening because it's my home) with one of her friends and friend's daughter, also getting married. She put my name and non-spam email address down for just about everything (argh, I'm still on some of those darn lists!). She and her crew left before the big drawings at the end. I had gone to one of these in VA and there were some big-time prizes at the end--trips, nights in hotels, hundred-dollar gift baskets, etc.--but you had to be present with ID to claim them. Well, apparently a gal I went to high school with was also there. She Facebooked me the following day, asking what I won because she'd heard my name called. All that said, Mom should've just put her own name (and my spam email address) down and stayed until the end. Oh well.
4. One hour in a limo.
This I did win from a bridal show, but not the fancy one. The limo company was in Virginia, so obviously that wasn't going to help our wedding. I decided to use it anyway, since neither B or I had ever been in a limo before. We used it for B's birthday, and we just told the driver to take us around Norfolk for an hour. It was kind of odd, to tell the truth. We had the driver drop us off in front of an ice cream place in Ghent. Neither of us wanted ice cream though, so we just walked back to B's apartment. That was probably our last limo ride ever, and we're quite okay with that.
3. A bottle of Curve perfume.
This one has a story too, and probably involved the least amount of luck and the most amount of skill. Back when the Oxygen network first aired, I was in high school. They had some afternoon variety-ish show that had a gameshow segment, and you could play along in their chatroom online. The questions were darn easy for anyone who had ever paid attention in school, so of course my 4.0 GPA and I won. You could only win once a month or so. I won at least three times, and I remember getting the Curve perfume for winning. I had actually never owned or even worn perfume before this. I still have it (10 years later!), and it's still my favorite.
2. $100 off of one month's rent.
The apartment complex that my roommate and I lived at in Virginia Beach (before I was married, obviously) would occasionally do some contests. They did one around Christmas that both of us entered. I believe roomie won a giftcard to Wal-Mart, and I won the $100 off January rent. I split it with her, of course. The complex B and I live in now does occasional giveaways, so hopefully we'll win the Valentine's Dinner I put us in for!
1. 11th-row tickets to see Michael Bublé in concert.
Yes, I already had tickets to the Norfolk show and had to drive to Richmond for this, but it was so worth it! This remains one of the best concerts I've attended (read
my review
if you haven't). Thank you,
Nordstrom
for $400 worth of tickets.
Have you had any lucky wins?