--- 3 ---
After a quick search through the past 8 years of tagged Facebook photos, I wore this black dress to at least 4 weddings between the years of 2006 and 2009.
Here is when I caught the bouquet a few months before my own wedding:
(It was my first time ever catching the bouquet, and obviously the last time I could attempt it.)
Nice dress, I should probably try it on again just in case.
After listening to quite a bit of pros and cons about fridges from various people and looking at our budget, we decided to go with a side-by-side in satina steel. This looks like stainless but it's magnetic and it doesn't get finger prints. (Feel free to tell me how awesome your french door with bottom freezer is, but only if you hand me the extra thousand bucks to buy it.) We got this Whirlpool model: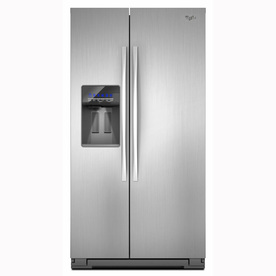 One of the gripes I heard was that you couldn't fit a frozen pizza in a side-by-side so I made sure we got a model that has adjustable shelves in both the fridge part and the freezer. (B's original solution: "Just don't buy frozen pizza." You could probably see the glare I gave him from the moon.) It also has a child lock on the ice/water maker and the ice maker is in the door.
not
a morning person. Argh. (I also have to tote the tot, her breakfast and lunch, toys, and naptime stuff, since we're just gonna make a day of it.)
Here is a picture of its backside:
Corollas are roomier than they appear!
p.s. This
is
my mommy car. For now.