Point taken.
(We've all had a case of the sniffles this week, but I think we're almost recovered.)
2 days ago
that I don't do this.) I probably wouldn't do it on a baby less than 6 months old, but she's 11 months old and I have so many regrets on how we've been getting her to sleep for the past 8 months or so. I mean, she only napped in her swing for 6 months. Just...yikes.
I was trying to find a different book on the library website and stumbled upon this one:
5 Days to a Perfect Night's Sleep for Your Child
. It was available for the Kindle, so I figured why not? We're going down to Indy for the weekend, but whatever this book says will be implemented starting Monday.
I have already read
No-Cry Sleep Solution
, and honestly, that one just looked like it took too much work. Between having visitors/teething/staying at the in-laws' house for the week of Christmas/teething again/being sick, it was impossible to start logging for 10 days to see any consistency. Also, No-Cry made me feel like I was ahead of the game since it talked a lot about co-sleeping babies who wake like 8 times a night. We have 2 wakings, but some of those we're up for over an hour, and that's when I start losing my mind.
me
us a heater for our bedroom since it's so cold in there, but he said that I deserved a gift for myself, too. I think it has to do with his commute. The exit where he works only has two things on it: the GM plant where he works, and the Vera Bradley headquarters. Since he wasn't planning on getting me a truck, I guess he thought this was a good idea: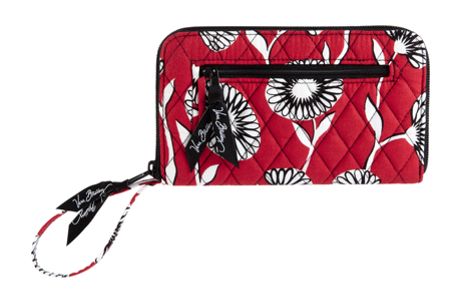 a wallet, and it's in Georgia colors!
For what it's worth, I never actually asked him for Vera Bradley anything, so this was a neat surprise. (I
had
mentioned going to the big
outlet sale
they do here every spring though, to stock up on gifts or get some deals for friends. Still looking forward to that!)
Jersey Boys
tomorrow! My in-laws had an extra ticket for the matinee, and they knew I'd be interested. B will be doing his Reserve thing, and baby will be left in the hopefully-capable hands of B's littlest brother and his girlfriend. Yes, my babysitters are high-schoolers. I'm sure they'll be fine. If anything, B gets off work at 4ish and will be home to rescue her.
Shutterfly
sent me a $20 credit in my email. Jumping ship has never been so easy!
She looks so classy in her blazer.
She was also rocking skinny jeans with a big cloth-diapered booty.