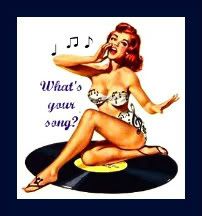 This song definitely did not get enough airplay around these parts. Love love love danceable, catchy songs.
Also, I discovered
Grooveshark
recently and it's 10 gabillion times better than Playlist.com (which often has the wrong song attached to a title--
LAME
). I haven't even made a login and was able to embed that thing above. Speaking of logins, when I tried to sign up for Playlist.com, someone had used my email to create the login name "Twilightlover266446". Umm, I read the first two
Twilight
books and thought they were truly terrible! (I might lose some followers by saying that, but oh well.) But I changed the password, so yeah, that's my login now. Doesn't matter because I'm never going back to that site ever again.
Also on Grooveshark, I was also able to find a song I had been digging and digging for back at Christmas. Here's a link to
that post
and the actual
cover of Mr. Grinch
that I have finally found 8 months later.